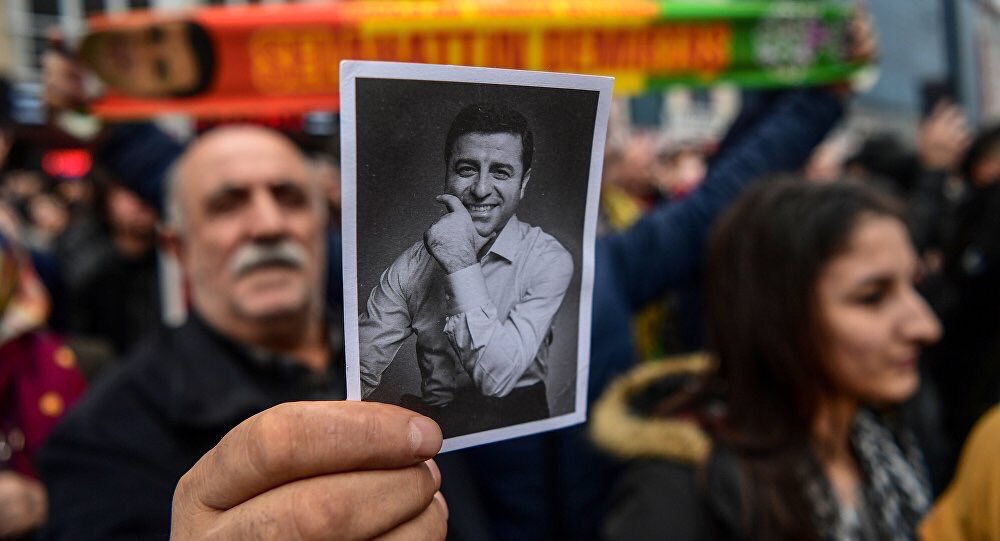 "Even in 90 years, even if I only have one tooth left, I will never ask to be released. Because you were not those who put me in prison and you are not those who can release me. I am a political hostage and political hostages cannot ask to be freed."
Selahattin Demirtaş
There is a man in Turkey at risk of being sentenced to 142 years in prison. His crime is having written articles, given interviews and speeches. His name is Selahattin Demirtaş and from 4 November 2016 he has been held in custody. He isn't the only victim of that swoop by Turkey's repressive state apparatus: also taken that day was Figen Yüksekdağ and another seven people. All of them members of the HDP (Democratic Peoples' Party), of which Demirtaş and Yüksekdağ were the two co-chairs, the two leaders. The HDP represents the voice of the Kurds in the East of the country, but also many Turks, Circassians, Pomaks. It is the prime target of the Erdoğan regime which has repeatedly sent them before the judiciary, ordered their arbitrary arrests, and unleashed the armed forces, with military repression amounting to a state of war against its people.
From the moment of the arrest, Demirtaş has been held in Edirne prison. Between 23 and 25 January his trial will resume. The judges have merged 31 judicial proceedings, with 31 separate counts of indictment. Demirtaş is accused of having formed an "armed terrorist organisation", of "propaganda for a terrorist organisation", of inciting hate, crime, the violation of the law and so on. His weapons? Words, written and spoken, the organisation of meetings and demonstrations. The very essence of democracy. Though evidently not the case in Erdoğan's Turkey.
The European Court of Human Rights (ECtHR) only a month ago declared that the imprisonment of Demirtaş has the objective of "suffocating pluralism and limiting the freedom of political debate", calling for his release from pre-judicial detention.
We don't want to limit ourselves to add our voice to the many who consider the trial of Demirtaş a blatantly political trial. For us Demirtaş is a political prisoner, a hostage in the hands of the Erdoğan regime. International solidarity must strengthen around the former co-chair of the HDP and shine a spotlight on the trial. In darkness and in silence the hands of Turkish repression would not hesitate to impose a punitive penalty, in order to eliminate one of the most dangerous enemies of the "Sultan".
We will follow the trial, we will spread information, press releases, the statements of Demirtaş and the HDP.
But in this situation it isn't enough to denounce the government of the "Sultan". Indeed, his strength derives also from international support and collusion. It derives from the money that the EU continues to place in Ankara's coffers in copious amounts, as the eyes of the European institutions watch dispassionately every time Erdoğan represses the people of Turkey.
Also complicit is the Italian government, which continues to do lucrative business with Turkey. A few circumstantial words of condemnation isn't enough. Erdoğan knows very well how much the EU governments are worth.
Free Demirtaş now!